Police believe her body was thrown from the Highway 417 bridge that spans the Nation River just west of Casselman, about 100 yards upstream from where her body was found.
Content of the article
She is known simply as the Nation River Lady, the nickname chosen for the name of the body of water where her body was discovered, floating face down, by a farmer on the morning of May 3, 1975. Homicide victim, she also became known by the unfortunate moniker of The Casselman Floater.
Content of the article
What she wasn't called afterward, at least not by the police or the general public, was her real name, which to this day remains a mystery, as does the identity of her killer.
The case, according to the OPP, remains open. A new call for information was most recently released in 2017, when images of a 3D model showing what it might have looked like were released, but whether it yielded anything useful was not released. A request made to the Ontario Provincial Police by this newspaper last month to speak with a detective about the case was denied.
All these years later, however, the search for answers is important, and not just to bring a killer to justice. Although police have concluded that the River Lady Nation never had children, there may still be family or friends looking for her.
Content of the article
"Families will continue to search, whether they're in a crowd, in a mall or just in a car," says Lusia Dion, an Ottawa criminologist whose website, Ontario's Missing Adults (www.missingadults.ca), recounts. the stories and others provide details of the people in the province who have disappeared, as well as the unidentified remains that have been discovered. The site also offers resources for those who are looking for a loved one or are considering reporting.
"My family told me that they had stopped on the side of the road so many times, because from behind someone looked like their loved one. And they run to them thinking they've found their loved one, and the person turns around and it's not them.
"This seeking behavior continues for years. Every day you go through the discussion of where are they? What more can I do to find them? Are they OK? What happened to them? And this conversation is emotionally and physically exhausting, but at the same time completely understandable.
Content of the article
Keeping details in the public domain, Dion adds, like what someone was wearing, or a scar, piercing or tattoo they had, could spark someone's memories. Additionally, the growing interest in genealogy sites that analyze clients' DNA may also provide clues and answers that weren't previously available. In 2000, the National DNA Data Bank, operated by the RCMP, was launched. In 2018, the RCMP created the National Missing Persons DNA Program to support investigations of missing persons and unidentified remains.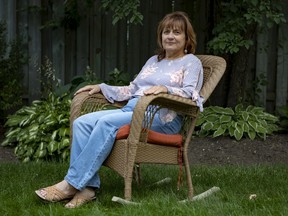 The international network DNA Doe, meanwhile, confirms that it is working with the OPP on the Nation River Lady case, matching her DNA against samples from other databases in search of a family match.
Content of the article
Police believe Nation River Lady's body was thrown from the Highway 417 bridge that spans the Nation River just west of Casselman, about 100 yards upstream from where her body was found. The cause of death was determined to be strangulation.
She was estimated to be between 20 and 45 years old, her height between 5ft 3 and 5ft 5in, and her weight around 100 pounds. She was Caucasian, light to medium build, and had shoulder-length brown hair that had recently been dyed strawberry blonde.
She had partial dental plates, both upper and lower, and had a gap between her front teeth. At some point, she had her appendix removed. She was right-handed, drank coffee and probably smoked. Her fingernails and toenails were manicured and painted with hot pink or red enamel. The color of his eyes could not be determined, although reconstruction done in 2017 suggests they were blue.
Content of the article
Blood discovered on the bridge, meanwhile, initially indicated that she had died between one and four weeks before her body was discovered, but a subsequent re-examination of the evidence, in 2005, allowed the possibility that her death occurred as from the previous fall.
His wrists were tied with a man's tie, while two other ties bound his ankles. His head was wrapped in a pair of "48×70" fringed green fabrics, possibly blankets or small sheets. A small orange, yellow, and green floral towel was also wrapped around her head.
Beneath the sheets, an "Irish Toast" tea towel was tied around her neck, above which was coiled a black coaxial TV cable splattered with gray paint. A plastic wheel from a curtain rod was found in her left armpit.
Content of the article
She wore a navy bodysuit with a collar, buttons down the front, long sleeves and snaps at the crotch. When her body was discovered, it had been lifted onto her shoulders.
Meanwhile, one of the ties, known as the "Canada" tie for its decorative flags of Canada, was made in Montreal and sold in stores in Quebec, Eastern Ontario and Toronto. . During the initial investigation, a Marmora store employee recalled selling a Canada tie to a couple. The woman, the clerk recalled, fit the general description of the Nation River Lady, while the man with her was described as between 5ft 4in and 5ft 6in tall and about 35 years old. The employee did not remember the date of the purchase.
Content of the article
The Nation River Lady's case stuck with Dion, in part because she noticed her own sister's likeness in a police sketch of the unidentified woman, an unexpected and shocking reminder of how the loss of a loved one can be devastating. "And it worries me a bit who's looking for her," Dion says. "The River Lady Nation had no children, and her parents are probably gone by now, so unless there is extended family, she is now invisible."
Dion created Ontario's Missing Adults in 2007, after volunteering for the Doe Network and realizing how many missing and unidentified people there were in Ontario alone, and how many families are unable to find answers.
"It gives families a portal they can contact," she says. "People like the River Lady Nation are absent from anyone's life, and I've never heard anyone say, 'Well, thank God they got out of my life, because they were annoying. .
Just finding out his name, Dion adds, could provide police with a host of leads to follow. It could also provide a solution for loved ones who have been endlessly haunted by his disappearance.
In 1987, a dozen years after her body was discovered, the Nation River Lady was buried in a Toronto cemetery, an unnamed numbered metal plaque her only identification.