REGIONAL—Iowa Senate District 3 candidate Anthony LaBruna has violated multiple state campaign finance laws in recent months, according to Iowa authorities.
LaBruna has reported no monetary contributions throughout his campaign and is being investigated by the Iowa Ethics Campaign Disclosure Board, the state's campaign finance enforcement agency.
Another candidate, Zach Dieken, broke minor campaign finance rules. Running for District 5 of the Iowa House of Representatives, Dieken has received at least three contributions totaling at least $800 from misattributed sources since his campaign began late last year. It is not under investigation.
The alleged misconduct of the LaBruna campaign is more serious. IECDB chief Zach Goodrich called it one of the worst breaches he has worked with and opened a formal investigation on Thursday.
"This is, in my opinion, one of the most egregious violations, if not the most egregious, or at least the alleged violation that I have seen," Goodrich said.
As director and chief counsel of the IECDB, Goodrich recommended the motion to the board on Thursday and received the green light. The next morning, Goodrich contacted the LaBruna campaign.
LaBruna told The N'West Iowa REVIEW that he filed the correct documents and added that he had not been contacted by the IECDB on Friday morning.
"I filed a case. That's my comment: I filed. I don't know why they say I didn't," LaBruna said.
Bruna
LaBruna has not reported any campaign contributions since filing his campaign official on Feb. 1. All Iowa campaigns that raise more than $100, including self-funding, must report sources of funding as well as election-related expenses.
LaBruna — whose campaign features signage, T-shirts, mailings and other promotional materials — did not report any income in the state's reporting system.
"There's just a bunch of stuff that the money has clearly been spent on," Goodrich said.
The deadline for reporting was May 19. Documentation is supposed to include all contributions and expenses of $25 or more from January 1 through May 14.
LaBruna filed a report on May 19 — although it still reported $0 — but that form was for the previous reporting period of 2021, which was due months ago.
An investigation by N'West Iowa REVIEW initially brought details of the missing form to Goodrich's attention on Wednesday. Goodrich said he was unaware that the $0 report was for 2021 and not Jan. 1 to May 14 and he added it to his legal filing on the LaBruna campaign.
Goodrich later said it was not the IECDB's job to tolerate candidates who "play dumb".
" It will not work. I'll tell you the same," Goodrich said. "One, if you're unsure, our office is always available to offer advice. And second, even if you don't know what to call our office, you still have an obligation to obey the law. We're not going to hold your hand with every violation. »
He said he wanted to hear the contestant's story although he couldn't conceive of a decent explanation for not disclosing funding.
"Filing a report with nothing on it just to meet the deadline, for me, just – I'm very curious to hear his version," Goodrich said. "I can't imagine in my mind how he could sell it in a way where my answer is 'Oh, that's totally understandable. I understand why it happened.
LaBruna maintains that he filed his campaign finance returns on time. He said he had a contributions spreadsheet that shows he raised about $13,000, which he said he submitted.
LaBruna also said he was not contacted by the IECDB about his alleged violations. An email from the state government shows Goodrich sent LaBruna an official order and short message at 9:57 a.m. Friday.
"I'm going to at least go look at this and see what happens, but I don't have a touch of ethics or any of the elections regarding non-filing," LaBruna said.
The IECDB director said he plans to prepare the next steps before the next board meeting, scheduled for Friday June 3, just days before the Republican primary on Tuesday June 7.
"We are aware that the primary is coming up, and even if there weren't one, obviously we would want to do things as efficiently as possible," Goodrich said.
LaBruna made his knowledge of the political system a cornerstone of his campaign, arguing that he would be an effective legislator because of his experience. He worked as an aide to the Iowa Legislature and served in the administration of former President Donald Trump.
"If you can't be effective, you can't make a difference in your community. You have to know how to deal with people like that," LaBruna said on May 3.
This isn't LaBruna's first legal run-in involving his state Senate campaign. In late March, his opponent Lynn Evans filed an objection to LaBruna's candidacy, saying he had not lived in Iowa for the required year. The state's bipartisan Objection Committee dismissed the allegation and kept LaBruna on the ballot.
Goodrich said the IECDB office also heard concerns about LaBruna's finances around this time.
"At that point, one of our listeners tried to contact him and asked, 'Hey, we've heard concerns. We just want to make sure you know we're here in case you need help," Goodrich said.
"And we don't always do that. But the fact that we've even gone that far to try to make sure there's compliance with someone who's a first-time candidate, who might not have that knowledge – we've made ourselves very available.
Dieken
Dieken is not under investigation. However, Goodrich said the way the campaign deposited some of its contributions is also against Iowa's campaign finance laws.
There have been at least three illegal donations:
November 19: $500 from Cleiton Zanela of 4325 500th St. in Sheldon. State law requires that all contributions of $25 or more be reported with a valid name and mailing address. The address provided does not exist according to the US Postal Service database. The closest 500th Street to Sheldon is south of Granville. It was also the first donation reported by the Dieken campaign.
December 25: $100 from Patricia Stevens of 6924 N. 65 Ave. to "Omaha, IA". No town of that name exists in Hawkeye State. The address is valid in the largest city in Nebraska, but it is further complicated by the zip code. The submission claims code 69152, a rural area hundreds of miles west of Omaha, NE.
February 28: $200 from "Unknown Unknown" in "Unknown, IA".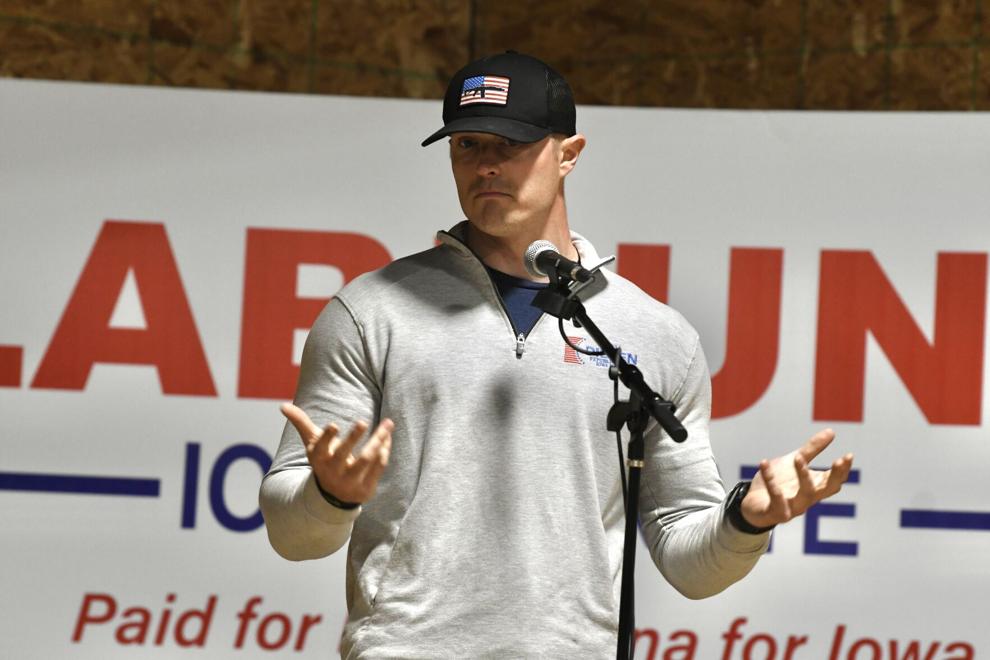 Dieken said the first two are incorrect addresses and simple mistakes.
"I can tell you beyond a shadow of a doubt that every donation we've received is grassroots, if you will, people we've met here," Dieken said.
As for the unknown donor, he says he remembers this incident. The $200 money arrived in the mail and had no name on it, Dieken said. He also said his campaign contacted the IECDB but received no response.
"My honest answer to that is that it's the first time we've done something like this before," Dieken said.
Goodrich said these types of violations are usually corrected by campaigns returning the funds. This can be done voluntarily or the IECDB can order the process, known as escheating. According to the state government website, there have been five escheats so far in 2022.
Goodrich added that the penalties for these types of illegal contributions are often minor. If the dollar amount of the breach was large enough or the methods were malicious enough, then an investigation would be undertaken by a higher level of the justice system.
"Everything we do – all the enforcement, the discipline – it's all civil and none of it is criminal," Goodrich said. "No one will go to jail unless it is something that is outside of our jurisdiction. The council is not sending anyone to jail.
He also said it was not within the purview of the IECDB to remove candidates from the ballot.
Dieken has centered his campaign for District 5 of the Iowa House of Representatives on dedication to conservative orthodoxy, especially when it comes to being anti-abortion and pro-police. He also pushed school vouchers, which would use public money to send some children to private schools.
Those positions won Dieken the endorsement of Gov. Kim Reynolds on Wednesday.
Others
In a third race, another Republican potentially violated the state's campaign finance law.
Kendal Zylstra, who is running for District 4 of the Iowa House of Representatives, received $1,500 from three political action groups. PACs advocate for specific policies or special interests and are regulated differently from individual contributions.
Political operative Jacob Hall of the Sioux Center filed a complaint with the IECDB on Thursday. The filing cites state law that prohibits PAC donations while the Iowa Legislature is still in session. The session ended on Wednesday. The payments were made on April 21 and May 4, according to the Zylstra campaign.
The next IECDB meeting on June 3 will decide whether to pursue an investigation.
Goodrich makes a recommendation, but the final decision is made by board members, a bipartisan group of appointed governors.
On February 28, Tom Kuiper of rural Sibley received a warning from the IECDB for being slightly late in filing his campaign committee with the state. Kuiper is running for the same Iowa House seat as Dieken.
Goodrich explained that such reprimands are largely symbolic in cases like Kuiper's where the infraction is minor.
"They've always been issued to people who always follow the law, it's just a few days late," Goodrich said. "Now if they were a year late or never filed, that might be a different conversation."